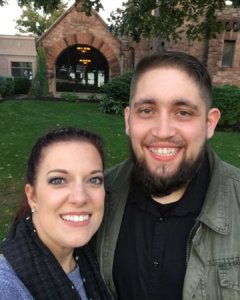 Somewhere to Grow
Matt Bailey was just looking to hang out with his buds when he first stepped into The CanTeen. Not only did he make more lifelong friends, but he also didn't realize just how much The CanTeen experience would shape his adult life.
The CanTeen turned him on to volunteerism. He became anxious to perform more and more community service.
"I went to almost every single event. I loved giving back to the community with them," Matt says. "I loved making a good word for The CanTeen.
"I wanted to show that we weren't just a bunch of teenagers, we were doing some good in the community," he says.
The CanTeen is indeed more than a teen center or after-school hangout to many of its participants like Matt, who took the opportunity to develop leadership skills as a student. He's brought those along with him to his job at a catering and vending company where he is a supervisor. He also volunteers as the leader of his church youth group.
"If it wasn't for The CanTeen, I don't know if that interest would peak for me as much as it does now," Matt says.
His fondest memories are of the staff and volunteers who helped him along the way.
"They did a lot for the teens that would come there," Matt says. "The staff there would always show how much they cared for every single kid and were always trying to show interest."
He returns the favor by stopping in now and then to give back as a mentor in hopes he can have a similar influence on participants.
"It helps you become a better person," Matt says. "It's not just a place you go after school to kill an hour of time, it's a place where you can go and build relationships with the staff and meet some of your closest friends."
← View more stories